Kristin Harris
Web Address: http://www.kristinharrisproductions.com
Email: knightvision1228@gmail.com
Houston, Texas
QUALIFICATIONS SUMMARY
• Over 15 years of Video Editing and Multimedia experience
• 15+ years of Graphic Design experience
• Creatively talented, technically skilled, dedicated to work
• Organized and highly motivated
• Worked with high-profile clients, such as Sony Pictures, Studio City, Gary Numan, and Dash Productions
ACHIEVEMENTS
Finalist and 2nd place winner in the CW Promax Supernatural "Making the Cut" Trailer contest
Over 15 million views on my youtube channel
PROFESSIONAL FREELANCE EXPERIENCE - JUNE 2006-PRESENT
Gary Numan - Graphic Designer of two concert t-shirts for the electronic music legend
Crimson & Lumen Lounge - Graphic Designer of club promo flyers and brochure
Empire Creative Marketing - Graphic Design and Video Editing
SX Magazine - Graphic Designer for two Gary Numan images in April 2011 issue
SIN Club - Graphic designer for club flyer for the Gary Numan 2011 Australian Pre-Tour Party
Chris Boss and the Fuss - Graphic Designer for the band's promo artwork
Texas Pictures - Video Editor for Cannon OTC promo video
Space City Films - Production Assistant for NASA film shoot
Dash Productions - Video Editor for 2 promo music videos for UK artist Seth Lakeman - The Hurlers and Crimson Dawn ; Designed MusicTVStation.com logo Version 1 | Version 2
Studio City - Offsight internship LA - Video Editor for promos on Regis and Kelly and Tyra
Sony Pictures Home Entertainment - Video Editor for three music videos with series music as special features on Forever Knight The Trilogy Part Three.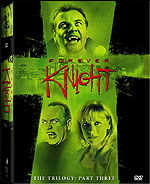 Designed BLink "gay text" for I Now Pronounce You Chuck and Larry
Edited video & sound and contributed ideas for "Are Friends Electric," Apple iMac Commercial with Rick Bell
Graphic Designer for CD Art for Scorbie: Cover | Back | Insert
Graphic Designer for CD Art for Sage4: Insert1 | Insert2 | Insert3 | Insert4
Designed Steven Hite's Blink Splash Graphic & Logo for Mobius Labs LLC: Version 1 | Version 2
Designed Neurocognitive Studies logo for TLC center at University of Houston
EDUCATION
University of Houston - Bachelor of Arts
Major: Media Production
SKILLS
Adobe Premiere Pro, Ulead Video Studio, Final Cut Pro, Pinnacle Studio, Adobe Photoshop, JASC Paint Shop Pro, Ulead Photo Impact, Macromedia Dreamweaver, Microsoft Office, Avid and Borix FX, Sony Sound Forge, Nuendo
Original artwork and video © copyright Kristin Harris, 2001-2018. All rights reserved.